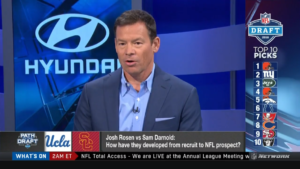 1. Hi Coach Mora. It's great to have you hear at New Level Performance. Could you tell us about your background and how you became involved in coaching? My father was a coach so I grew up in the business. I can honestly say it is all I ever wanted to do. Being around the athletes as a youngster really made a positive impression on me; I respected the hard work, commitment, teamwork, and competitive drive they routinely demonstrated. My favorite time as a kid where hanging out with my Dad at practice, being on the sidelines at games, and spending time in locker room before and after games…I loved the intensity. When I ended my playing career at the University of Washington I became a Student Assistant as I finished my degree. Upon graduation I accepted a position with the San Diego Chargers working with the coaching staff, that job lead quickly to the position of Defensive Backs Coach at the age of 24.
2. Could you walk through the recruiting process when you coached in College? The recruiting process has changed dramatically over the past few years. The digital age and the influence of social media have had a major impact on how coaches connect with players. It is typical now for kids to commit to a school prior to their senior season, something that never happened when I was a player or college coach.
3. What were the top 5 characteristics you looked for in an incoming freshman? Personal Character, Football Character, Work Ethic, Commitment to a "Team First" Environment, Family Background and major influences in the young mans life.
4. What are some things that potential college freshman football players can do to better prepare them for college life and athletics? I would say that they need to connect with a counselor as freshman in HS that can help guide them through the process of taking the correct courses, help them as they prepare for the ACT/SAT test, and help them to prepare to write the essays they must write as they apply to college. Students need to understand that the chances of getting a scholarship are remote and should prepare to get accepted to colleges on their own accord. I was a Walk-on at the University after having been a pretty highly recruited player as a junior. I injured my knee and didn't have the kind of senior season I expected to have. I had to get myself into school and earn my scholarship as a freshman.
5. Many young players see the glamour of the position of playing D1 football on national TV, but do not recognize the sacrifice that must be made. Could you give us a sample of a typical freshman's daily schedule? The balance of school and sport can be overwhelming for an 18 year old away from home for the first time. Depending on the time of year, assume your day will begin with 6:00 AM workouts up to 3 days a week. Typically you will have 3 classes to attend during the day, afternoon meetings and practice, then study hall. It is imperative that the student athlete is very organized with their time and disciplined to stay on schedule.
6. How important are football camps, combines, etc… to the recruiting process? What is the most significant form of communication that lets a potential signee know that a college program is very interested in them? These forms of exposure have become increasingly important. Many colleges use camps and combines as a first look at potential recruits. However, the best thing you can do is play well on Friday nights. If you are a good player they will find you. It is important that your HS coach be an advocate for you and make calls to the colleges that you are interested in. I think a letter to the position coach at the school you have an interest in attending is an excellent way to get on the radar.
7. What is one thing that you have always emphasized to the athletes in your program that they want to leave the university with? A degree! Beyond that a Rolodex of connections in the business world that they can reach out to as they move into the next phase of their life.
8. What in your experience leads to the biggest downfall of young athletes when they arrive on campus? A lack of discipline in organizing their time and sticking with a schedule that allows for study, workouts, relax time, and sleep. Also, some youngsters start to believe they are special because they play ball and get lazy or cocky…don't fall into that trap. As a student-athlete you have a rare opportunity to experience college like few others…take advantage of it. Find an area of study that interests you and apply yourself like you do in sports.
9. Thanks for doing this interview and where can we learn more about you. What projects are you currently working on? I am working for NFL Network and FOX Sports, as well as getting involved with the study of concussions. I also am the President of a charitable foundation, the Jim Mora Count on Me Family Foundation, www.countonmefoundation.org
James Lawrence "Jim" Mora (born November 19, 1961, in Los Angeles, California) is an American former NCAA defensive back and National Football League head coach. As of 2010, he is currently an analyst for the NFL Network.
On February 5, 2009, the Seahawks signed Mora to a five year contract to become the team's next head coach when then head coach Mike Holmgren retired following the 2008 season. Mora is the son of retired NFL head coach Jim E. Mora. To differentiate between the two, Jim Mora is often referred to as "Jim Mora Jr.". However some, like Monte Kiffin, refer to him as "J.L. [Mora]".[1]